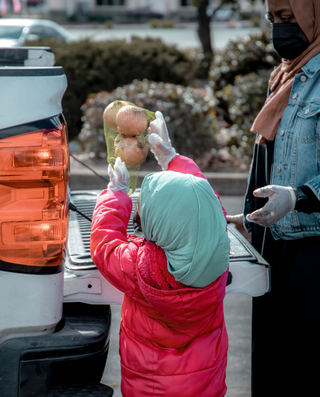 Food Bank
Those that require assistance can come to Masjid Annur (6990 65th Street)
every 2nd and 4th Saturday of each month between 10am-12pm to collect
free food.
These distributions are open to the public regardless of faith. You will need to enter through the Sun City Plaza.
How We Serve
The hidden costs of apartment living in Northern California are often unaccounted for – families arrive at empty homes unable to afford beds, clothes, hygiene products and other essentials. As part of our continued effort to support these families, al-Misbaah furnishes and provides items to newly arrived families,including:
- hundreds of beds and couches so families avoiding sleeping on wooden floors
- thousands of toiletry packages such as toothpaste, shower gel, soap, toothbrushes to ensure each family can meet their basic hygienic needs
- food distributions to alleviate the financial burdens of families in our community Such efforts would not be possible without the help of our brilliant team who handle the logistical challenges associated with these set-ups, ensuring that all our supplies are clean and safely delivered.
Al-Misbaah continues to conduct emergency food distributions for newly arriving
families. As these families do not have access to EBT (Electronic Benefits
Transfer) and cash benefits for about 60 days, they rely on Al-Misbaah to feed
themselves and their children. We conduct these emergency drives at various
locations, delivering food to thousands of newly arrived families directly at their
door, ensuring that our food supplies are directly bringing them out of food
poverty.
Since newly arrived families don't have transportation, we load up our trucks and
transport resources such as food, clothing, cooking utensils etc to these families
at the complexes they're staying at. We've conducted dozens of individual
distribution drives at different complexes throughout Sacramento and the
surrounding areas in Northern California to ensure as many people are serviced
as possible.
Our Community Resource Center also has a Vehicle Donation Program (VDP) to provide individuals in our community that are in need an opportunity to become self-sufficient. Cars are the major form of transportation in Sacramento and the wider area, and vehicular access provides struggling individuals with both economic and social opportunities, allowing them to integrate themselves within
our community.
Al-Misbaah also supports families with rental assistance if they are not receiving
county benefits. California has some of the highest cost-of-living requirements in
the entire country, and many of the vulnerable in the community are at risk of
falling behind payments and becoming homeless. We aim to financially help
those in serious need thanks to the support of our donors and sponsors.
Serving the needy and vulnerable in the Sacramento area, Al-Misbaah started
from a small community initiative to help refugees into a fully-fledged charitable
organisation for Muslim youth, with the Al-Misbaah Community Resource Center
(ACRC) at the hub.

Starting out from volunteer garages and moving trucks, our Resource Center has
quickly grown into one of the largest of its kind in the area. With over 2000 sq ft
of space, our mission is to collect and distribute much-needed donations
throughout the community – wherever it's needed – in order to improve the
living standards for all, be it for refugees or anyone else that requires our
support.

Led by the stewardship of our Resource Director, Sr. Helena Madera-Silmi,
working together alongside Jaafar Wahidi, Samra Jameel and our other amazing
staff and volunteers, over 4200 families have been supported by our various
charitable programs! We accept all kinds of donations that will help ordinary
families in the area, including furniture, kitchenware, clothes, toys, toiletries, and
other essential items.

Al-Misbaah offers a donation pick-up service for items that cannot be dropped
off, with the help of our fleet of trucks. All other donations can be dropped off at
our warehouse. If you would like to contribute, please email us at
resourcecenter@al-misbaah.org to request a donation pick-up.
Need assistance? Or more information?
Email us at resourcecenter@al-misbaah.org