Maktab Program
Strengthening Muslim Children, Empowering the Community
Al-Misbaah's Maktab program teaches Muslim children about their religion, fostering a strong foundation for the next generation. Maktab, similar to elementary school in the Muslim world, imparts knowledge on Islam, Qur'an memorization, and recitation.
Our Maktab aims to:
Teach children their individual Islamic obligations (fard 'ayn).
Help children incorporate this knowledge into their daily lives, nurturing piety and God-consciousness.
Foster a stronger connection with the local masjid, promoting community engagement.
Graduating from our Makatib equips children with a confident Islamic identity, enabling them to resist societal pressures and approach the Deen with a healthy attitude.
Our goal is to establish Maktab programs in various masajid and musallahs across Sacramento County. These Makatib will identify students for our Qur'an memorization program, offering them a path to join the Al-Misbaah seminary. The seminary provides opportunities for individuals seeking to deepen their Islamic knowledge, with the goal of nurturing qualified ulama who can serve the local community.
Through our Maktab and seminary programs, we aim to create a community equipped with knowledgeable scholars who understand and address the issues and needs of our community.
Sponsor a Maktab Student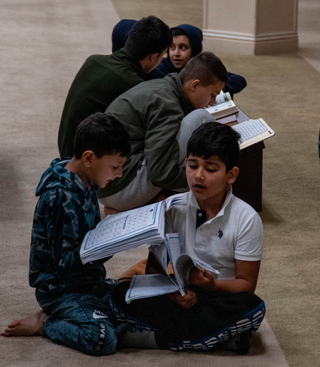 Questions about Maktab?
Email Jamel at Jamel@al-misbaah.org